• EU PROJECT SENSMAT
Thanks to the support of the CEA, ARC-Nucléart had the opportunity to submit in June 2018 a proposal, within the framework of the Horizon 2020 programme funded by the European Commission. On behalf of ARC-Nucléart, the CEA responded to the Innovation Action call « Innovative and affordable solutions for the preventive conservation of cultural heritage » (ID: NMBP-33-2018). After the evaluation by a panel of selected experts in these domains, our project entitled: « Preventive Solutions for Sensitive Materials of Cultural Heritage – Acronym: SensMat » was selected in September 2018.
CEA / ARC-Nucléart is coordinating this project, which includes 17 partners, from 6 European countries.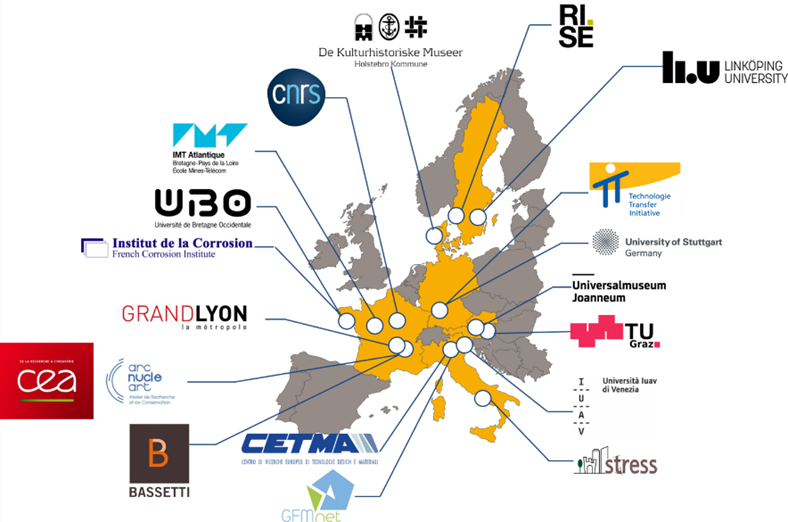 Europe's contribution for this project amounts to around 5,916 k€. The project (Grant Agreement 814596) started the 1st of January 2019 and will run over 44 months, up to the 31st of August, 2022.
Link to the project website: www.sensmat.eu
LinkedIn page: www.linkedin.com/company/sensmat
Context: Preventive conservation (PC) has emerged as an important approach for the long-term preservation of sensitive cultural heritage (CH), notably for mobile artefacts, those displayed or stored in harsh environments and for small and medium-sized museums.
Goals: SensMat aims to develop and implement effective, low cost (<20 – 30€ for basic platform), eco-innovative and user-friendly sensors, models and decision-making tools, as well as recommendations and guidelines to enable prediction and prevention of degradation of artefacts as a function of environmental conditions.
SensMat specific objectives are:
Review of preventive conservation and survey, for case studies choice recommendations.
Development and tailoring of sensitive materials degradation models and Building Information Modelling (BIM) as support to master environmental conditions.
Development of low-cost sensors and sensing system and ultra low-cost radio powered sensors.
T°C, RH%, VOCs, Particles, light, shocks, vibration, Corrosivity.
Miniaturised and real-time wireless sensor node (integrated software framework for some sensors).
Optimisation of communication systems to the cloud (gateway and IoT) for the wireless multi-sensors platform.
Data management tools : a decision making engine based on contextual data and a knowledge data base will be customized for each small and medium museum. Best practices guide.
Integration of the different components developed through the specific objectives into the SensMat systems and demonstrating it as a service in 10 case studies (service support for the installation, start-up and training).
Market analysis and exploitation of results, Innovative products and services.
Concept
Sensmat is « a User driven project » : the goal is to dimension latest developments according to the needs and constraints of each museum actor (sensitive materials, artefacts, legal, societal, environmental constraints…). Acceptability is a key parameter (demonstrations).
SensMat solution combines latest developments on:
Sensors (T°C, RH%, VOCs, Corrosiveness, Particulate matter, light, shocks, vibration);
BIM (Building Information Modelling), materials modelling;
IoT (Internet of Things);
Data management tools : a decision making engine based on contextual data and a knowledge data base will be customized for each small and medium museum.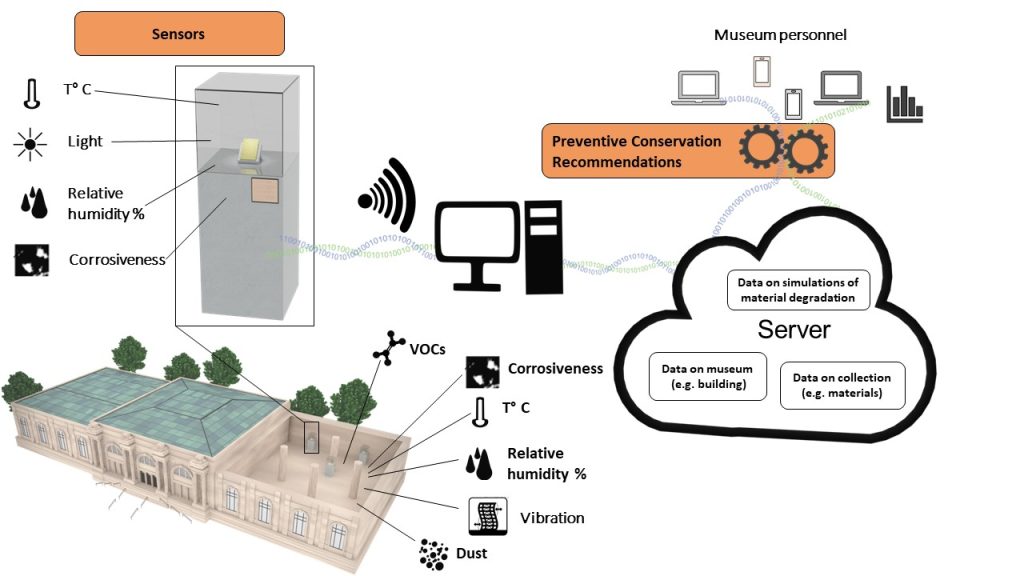 A user-friendly all-in-one solution that could reduce or eliminate the need for overly expensive restoration through preventive conservation (PC). Improvement of Key parameters: efficiency to monitor environment and/or to predict material degradation, cost of tools, size of sensors systems, accessibility of the technology for not specialized people (training), user friendliness, monitoring systems can be adapted easily to different configurations, standardization of computer codes to improve interoperability, mutualisation, sharing of knowledge and practices…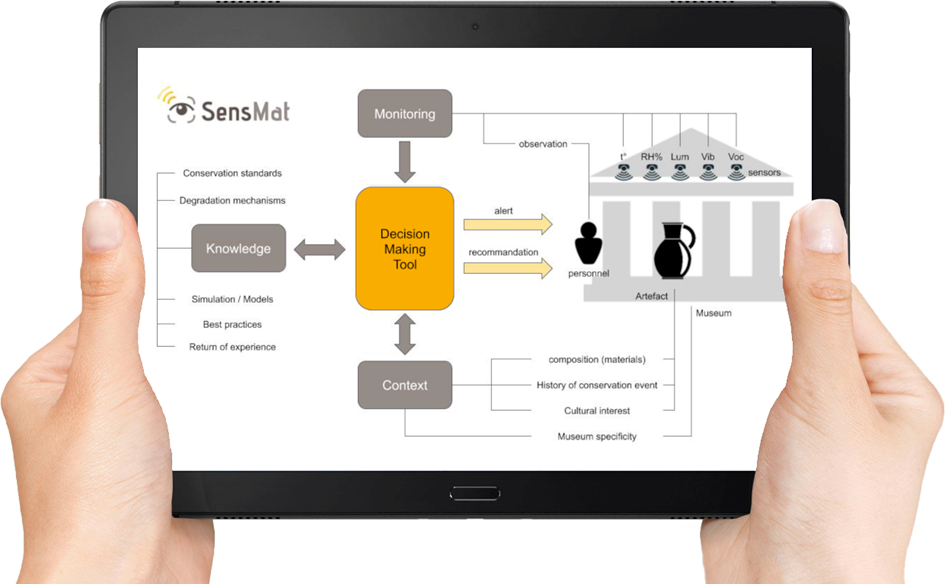 To demonstrate the concept of SensMat project in real small and medium museums building contexts, 10 Case Studies,were selected in terms of climate conditions, typology and status of artefacts, the encountered materials and their sensitivity. We aim to demonstrate the efficiency and the relevance of tools developed. Those case studies are "good candidates" for setting up an overall environmental monitoring to optimize the current conditions of display/storing and to fulfill with the best preservation requirements.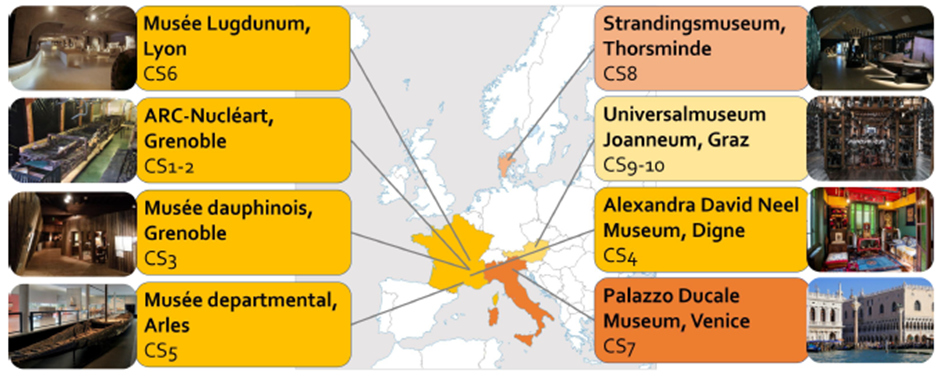 Videos have been produced to illustrate the 10 demonstrators and are available on the project website https://www.sensmat.eu/galleries/

This project has received funding from the European Union's Horizon 2020 research and innovation programme under grant agreement No 814596